Лаборатория Касперская - успешная компания, которая активно продает антивирусные услуги и программное обеспечение в США и даже спонсирует National Public Radio (NPR).
Связи Касперского с российскими спецслужбами загадочны, но несомненно укрепились в последние годы. О них сообщалось в репортаже Bloomberg в марте 2015.
In 2012 Kaspersky Lab abruptly changed course. Since then, high-level managers have left or been fired, their jobs often filled by people with closer ties to Russia's military or intelligence services. Some of these people actively aid criminal investigations by the FSB, the KGB's successor, using data from some of the 400 million customers who rely on Kaspersky Lab's software, say six current and former employees who declined to discuss the matter publicly because they feared reprisals. This closeness starts at the top: Unless Kaspersky is traveling, he rarely misses a weekly banya (sauna) night with a group of about 5 to 10 that usually includes Russian intelligence officials. Kaspersky says in an interview that the group saunas are purely social: "When I go to banya, they're friends."
https://www.bloomberg.com/news/articles/2015-03-19/cybersecurity-kaspersky-has-close-ties-to-russian-spies
В том же году Майкл Флинн получил от Касперского небольшой гонорар ($11,250), предположительно за выступление на конференции.
Kaspersky said in a statement provided to Business Insider that the company had "paid Gen. Flynn a speaker fee for remarks at the 2015 Government Cybersecurity Forum in Washington, DC."
http://www.businessinsider.com/mike-flynn-and-russia-2017-3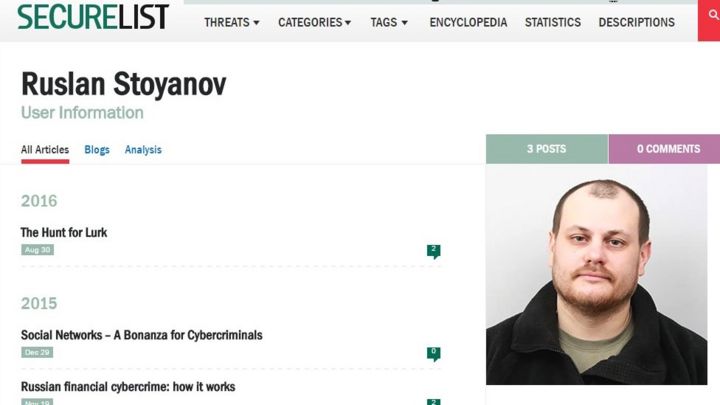 Среди группы людей,
арестованных ФСБ
в декабре 2016 по подозрению в государственной измене, оказался сотрудник Касперского Руслан Стоянов, который возглавлял в компании отдел расследования компьютерных инцидентов. Бывший майор милиции Стоянов начинал свою карьеру в правоохранительных органах (Управлении «К» УСТМ ГУВД Москвы).
Тема Лаборатории Касперского неожиданно всплыла на сенатских слушаниях.
MANCHIN: I'm sure we'll have more questions in the closed hearing, sir but let me say to the rest of you all, we talked about Kaspersky, the lab, KL Lab. Do you all have -- has it risen to your level being the head of all of our intelligence agencies and people that mostly concerned about the security of our country of having a Russian connection in a lab as far outreaching as KL Labs?
Has it come with your IT people coming to you or have you gone directly to them making sure that you have no interaction with KL or any of the contractors you do business with? Just down the line there, Mr. Cardillo?
CARDILLO: Well, we count on the expertise of Admiral Rogers and the FBI to protect our systems and so I value...
MANCHIN: ...But you have I -- you have IT people, right?
CARDILLO: Absolutely.
MANCHIN: Have you talked to the IT people? Has it come to your concern that there might be a problem?
CARDILLO: I'm aware of the Kaspersky Lab challenge and/or threat.
MANCHIN: Let me tell you, it's more of a challenge -- more than a challenge, sir and I would hope that -- I'll go down the line but I hope that all of you -- we are very much concerned about this, very much concerned about security of our country watching (ph) their involvement.
CARDILLO: We share that.
MANCHIN: General?
STEWART: We are tracking Kaspersky and their software. There is as well as I know, and I've checked this recently, no Kaspersky software on our networks.
MANCHIN: Any contractors?
STEWART: Now, the contractor piece might be a little bit harder to define but at this point we see no connection to Kaspersky and contractors supporting (ph)...
MANCHIN: ...Admiral Rogers?
ROGERS: I'm personally aware and involved with the director on the national security issues and the Kaspersky Lab issue, yes sir.
COATS: It wasn't that long ago I was sitting up there talking -- raising issues about Kaspersky and its position here. And that continues in this new job.
POMPEO: It has risen to the director of the CIA as well, Senator Manchin.
MANCHIN: Great.
https://www.washingtonpost.com/news/post-politics/wp/2017/05/11/full-transcript-acting-fbi-director-mccabe-and-others-testify-before-the-senate-intelligence-committee/
Сегодня стало известно, что ФБР проводит расследование Лаборатории Касперского, снимая показания сотрудников. Пока неизвестно, связано ли это с расследованием, которым занимается Мюллер.
FBI agents on Tuesday paid visits to at least a dozen employees of Kaspersky Lab, a Russia-based cyber-security company, asking questions about that company's operations as part of a counter-intelligence inquiry, multiple sources familiar with the matter told NBC News.
In a classic FBI investigative tactic, agents visited the homes of the employees at the end of the work day at multiple locations on both the east and west coasts, the sources said.
http://www.nbcnews.com/news/us-news/fbi-interviews-employees-russia-linked-cyber-security-firm-kasperky-lab-n777571
Originally posted by
tijd
at
Касперский